К выбору следующего сериала всегда прихожу спонтанно.
Пайлот на то и создан, чтобы вкусить что и как. Хотя иногда шоу нужно разогнаться для начала.
Не помню как именно я вспомнила про этот сериал, но вообщем, стала его смотреть.
У меня просто новая тема - не начинать сериалы, которые еще не закончились.
Не спокойно мне ждать эпизоды, или смотреть по одной серии. на мне висят несколько шоу, но пожалуй. дальше буду смотреть только целиком отснятые.
Сериал не идеальный. На мой взгляд хронометраж длинноват, и за счет этого, по-итальянски (или по-толстовски), обсуждается каждая ситуация, вне зависимости от ее значимости в дальнейшем.
Много снов - пара серий строится чисто на них. Зачем?
Но тем не менее. Сейчас ощущаю на себе то самое чувство, которое бывает когда заканчивается твой любимый сериал.
Потому что герои сильные, актеры потрясающие, снято соответствующе. И в истории телевидения сериал значителен.
С концом, конечно, оборвали. Сиди и гадай, что называется.
Хотя с другой стороны - надежда есть всегда.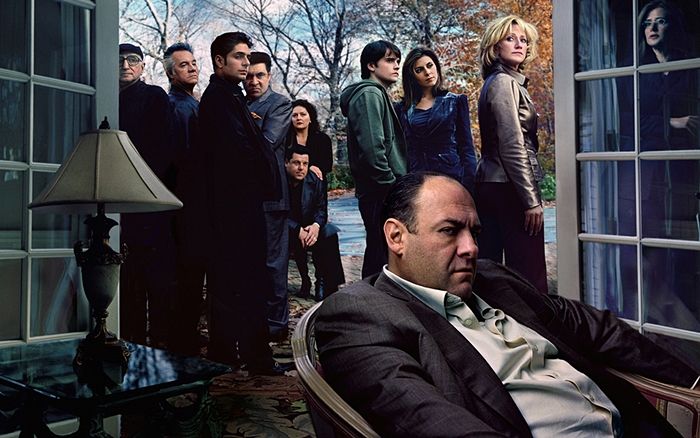 Ranked #3 on Empire magazine's 50 Greatest TV Shows Of All Time (2008).
James Gandolfini said that he was often contacted by real-life 'wise guys' complimenting him on the authenticity of the series as well as giving him advice.
Tony Sirico only agreed to sign on for the show if it was guaranteed that his character Paulie 'Walnuts' Gualtieri would not be a "rat", an informant.
That might be because in real life, as Sirico explained in James Toback's documentary The Big Bang (1989), he had served time in prison for robbery.
Altogether, Sirico's rap sheet included at least 28 arrests. Reportedly, Sirico also appeared briefly in an uncredited role in Крёстный отец 2 (1974).
David Chase had one rule for the scenes at Dr. Melfi's office: no camera movements.
Before David Chase chose "Woke Up This Morning" by UK band Alabama 3 (from their 1997 debut album "Exile on Coldharbour Lane"),he originally wanted to use a different song in every episode's opening sequence. H
BO executives convinced him that viewers needed to be able to identify the show with a theme song. However, every "Sopranos" episode does end with a different tune.
Ray Liotta was the top choice to play Tony Soprano but he turned it down stating he did not want to commit to a television series. Later, Liotta was in talks to play Ralph Cifaretto but turned it down as well.
The large mugshot on the wall of the Bada Bing's office is of a 23-year-old Frank Sinatra. In 1938, Sinatra had been arrested and charged with 'seduction of a married woman'.
David Chase was a longtime fan of Steven Van Zandt's music and had always wanted to write a role for him.
When Chase saw Van Zandt induct 'The Young Rascals' into The Rock and Roll Hall of Fame, he invited Van Zandt to audition for Tony Soprano even though he had never acted before.
Van Zandt did not want to take a role away from a real actor, so Chase wrote the role of Silvio Dante for him. And The Rascals performance footage ended up being featured in 1999's seventh episode, "Down Neck" .
When Steven Van Zandt landed the role of Silvio, his character's suits were made by real-life underworld figure John Gotti's tailor. Gotti was serving a life sentence at the time.
Van Zandt knew early on that he was about to become part of a TV series determined to reflect realism in mob life when he noticed the character Johnny Ola (Dominic Chianese from Крёстный отец 2 (1974)) sitting opposite him in rehearsals.
According to Terence Winter, Steve Buscemi signed up for two seasons, but David Chase felt eventually that his story needed to be told only in one.
Many local New Jersey businesses are used as locations in the series. In the opening credits, we see a shot of a pizza shack known as Pizza Land. They get calls for pizza orders from all over the country as a result.
HBO was worried that the title of the series would make the audience think it was about music. That is why the gun image is in the title logo.
Lorraine Bracco was originally asked to play the role of Carmela Soprano, but she felt that the part was too similar to her character in Славные парни (1990). She decided the role of Dr. Melfi would be more challenging.
David Chase revealed in an interview that even though it worked dramatically, he considers the storyline of Tony and Carmela's separation not believable, because mobsters wives don't get divorced.
The concept of family is an essential ingredient of this series about La Cosa Nostra ("This Thing of Ours"), a fact also reflected in the show's production.
Besides the LuPone and LaPaglia connections mentioned above, David Chase cast his daughter Michele DeCesare in six episodes as Meadow's friend, Hunter.
Even more familial is the casting of real-life husband & wife Steven Van Zandt and Maureen Van Zandt as Silvio and Gabriella Dante.
As well, on the series' production team, longtime writer/producers Robin Green and Mitchell Burgess are a married couple.
In addition, co-star Lorraine Bracco's sister Elizabeth Bracco appears as Marie Spatafore in eight episodes.
Dominic Chianese Jr., son of the actor portraying Uncle Junior, appears in three final-season shows as a soldier in the Lupertazzi crime family.
Then there's Michael Buscemi, brother of the noted director and cast member Steve Buscemi, who shows up early on in the series' fourth episode.
Finally, Joyce Van Patten, half-sister of Семья Сопрано (1999) veteran director Timothy Van Patten, appears in one episode in Season 4...while his daughter, young Grace Van Patten, appears twice in the final season.
@темы: ~La Vita e Bella~, Video, Steve Buscemi, Photo, Music, Mickey Ryan, James Gandolfini, Любимые фильмы, Сериалы