Стремительно и насыщенно проходит мой очередной тинейдж марафон. Вот и последний, я думаю фильм.
Я на него натыкаюсь ПОСТОЯННО, и все время как-то собираюсь посмотреть, но никак не попадаю.
И вот, наконец-то. Действительно, стоящий фильм.
P.S. хосспади, так еще и сиквел в 90х сняли. Что-то уж очень "забавно".
Очень контрастирует с угрюмым мудом "Последнего киносеанса".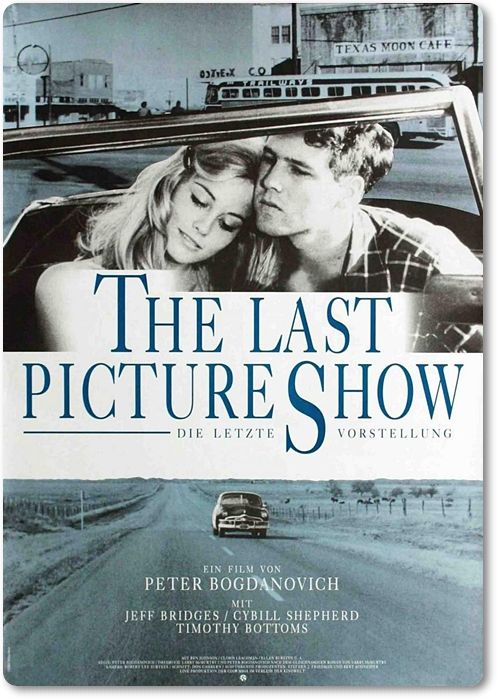 Upon selecting the town of Archer City, Texas, as a filming location, production designer Polly Platt and director Peter Bogdanovich decided that the town should have a bleak, colorless look about it.
After considering several options, such as painting all the buildings gray, Platt and Bogdanovich consulted close friend Orson Welles about the viability of shooting the film in black and white.
Welles simply said, "Of COURSE you'll shoot it in black and white!"
Ellen Burstyn was originally considered for the role of Genevieve, but after meeting with Bogdonavich and reading for all three of the older women characters, he asked her to play Ruth Popper.
Burstyn, however, preferred the role of Lois, and Bogdonavich told her to go home, think about whatever part she wanted to play, and call him the next day.
She called him the next morning, telling him she still wanted to play Lois, and he agreed.
Cloris Leachman's last scene in the movie was printed on the first take without any previous rehearsals.
She wanted to rehearse the scene but director Peter Bogdanovich thought it would ruin the scene if it was rehearsed.
Ultimately his sense of direction paid off, as Leachman won the Academy Award for her performance.
Peter Bogdanovich claims the crew disliked him because he always ate with the actors on location.
Peter Bogdanovich claims that seeing Cybill Shepherd on a magazine cover inspired his casting her.
According to Shepherd he later viewed an old silent screen test of her shot by Roger Vadim.
Cybill Shepherd's film debut.
Cybill Shepherd was cast with the option of backing out of her nude scenes if she so desired.
She only agreed to do them after asking the opinions of three female costars - Cloris Leachman, Ellen Burstyn and Eileen Brennan - who all thought she should do them.
Peter Bogdanovich used no music except popular songs from the period all heard in a naturalistic context over radios.
Peter Bogdanovich had originally offered the role of "Sam the Lion" to James Stewart, who liked the part but had already committed to a TV series and couldn't get out of it.
The role was then offered to Ben Johnson, who took it eventually won an Academy Award for it.
'Ben Johnson was persuaded to accept the role of Sam the Lion by his friend John Ford.
The taciturn Johnson had turned the part down three times because, according to Peter Bogdanovich, the part had "too many words."
According to Cloris Leachman the cause of her dysfunctional marriage was that her husband was gay.
She claims a scene between her coach husband and the team's quarterback would have revealed that implicitly, but because of budgetary reasons was never shot.
Peter Bogdanovich left the location because of the death of his father and after he returned to the set, the first scene he shot was the funeral of Sam the Lion.
@темы: Photo, Mickey Ryan, Jeff Bridges, Ellen Burstyn, Cinema